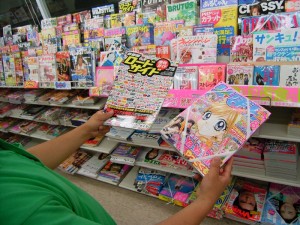 Let's play Miss Kay's Magazine Game bitches!  It's kind of like the popular Drinking Game I'm sure most of you have heard about.  In the Drinking Game, if game players see something they agree on before the game starts, example:  taking a drink every time they see Horatio Caine wearing his sunglasses on CSI Miami, they have to take a drink, bottoms up! 
Yeah and your bottom's going to be up in the Magazine Game too!  Here's how to play Miss Kay's Magazine Game…  First, you have to buy a women's magazine like Cosmopolitan or Marie Claire or Elle at a newsstand, drugstore or supermarket.  That's just the beginning of your pain and humiliation when you have to buy a woman's magazine in public!  Then make sure you have something to paddle your ass and whack your balls with, like a paddle, riding crop, hair brush, fly swatter, high heel, spatula, large wooden spoon…
Now here's where the fun starts in Miss Kay's Magazine Game.  You have to start paging thru the magazine and every time you see a girl in a photo in an advertisement or article, you have to whack your balls or paddle your ass.  Alternate between whacking and paddling.   Or if you're only into ball pain, then just spank those balls, or if you're only into spankings, then spank that ass!  Hard!  Remember Miss Kay doesn't like pain wimps, Miss Kay likes pain sluts! 
Pain is the real game here isn't it!  And the mystery of not knowing when you turn the page, if you're going to find a pretty girl in an ad, or an ad for perfume with only the perfume bottle, but no pretty model.  Will you feel relief when you get a reprieve from the pain?  Well it's only momentary, because as soon as you turn the next page, what do you think you are going to see?  That's right, so get ready so whack your balls or spank your ass!
1-800-TO-FLIRT (1-800-863-5478)- Ext. 0302-4582