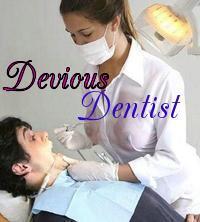 Despite being ultra busy  shopping and decorating my beautiful home, I still found some time to sit down in my studio, relax, write and record a new erotic hypnosis mp3 file for all of you.  My newest file is titled "Devious Dentist" and literally that's what this file is about, a seductive dental visit, but with some delicious erotic surprises.  If you follow me on Inraptured or Niteflirt, then you already know I am a premiere erotic hypnotist.  I am very popular for live erotic hypnosis phone sex sessions as well as for producing hypnosis mp3 files that I highlight here on my blog and feature in my PPV store.  I also produce custom files for those who are interested in specific, personalized hypnosis fantasies.  "Devious Dentist" is a very unique hypno file. It incorporates an ordinal induction and deepener which are very effective in mesmerizing even the most hypno-resistant.  After you are under my anesthetic powers, as your sexy dentist, I take complete sexual control of your cock, deepen you and take your dental pain away!   An orgasmic release awaits you in this hypnosis mp3, you will be encouraged to cum as you are being teased while under my sexy hypnotic power.
I know you can't wait to buy this file and go on yet another hypno journey with me.  Add it to your mp3 hypnosis collection now.  Or call me live if you want to experience an interactive dental visit with me on a Niteflirt hypnosis session.
This file is 54:00 mins long with a binaural beats  background.
$30.00