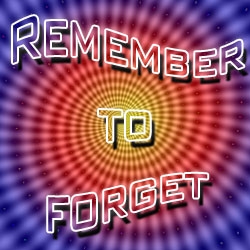 Sometimes when I sit down to write I pick my brain for that perfect gem and just stare at that blank piece of paper until the ideas start to come.
 I know it's a shock, but yes, I do use paper and a pen to get started.  There's something nice about doing things the old-fashioned way.  I know it might also surprise you that even though I have a notebook full of ideas and outlines, I'm never happy with just those ideas.  Sometimes an idea that isn't brand new doesn't make me want to write and record.  I think sometimes I get tired of my older ideas because I've been thinking them over for so long I need something new.
 And sometimes I get a request for a custom…
I know all of you have really loved Remember to Forget, and I have to say it is the best, most thought out request I've received so far.  It's just too bad the boy who requested it doesn't remember what he asked me for.  I know some of you are also having that problem too, and more than a few of you have bought it more than once, you poor sweet things.  It's amazing how suggestible you can be when you want to be suggestible. 
Have I ever shared how much I love that you all love to surrender?  Have I ever told all of you how much I love that you can let your mind do just what I want it to? 
 I'm sorry, I didn't mean to get off topic like that.  I want to talk a little bit more about Remember to Forget.
A big part of the file is temporary stupefaction.
I know plenty of boys that wish there was a "himbo-fication" file just for them.  I know plenty of boys that don't want to feel like a ditzy girl to feel empty headed and simple.  I know how smart so many of you are, and how much power that intelligence gives you.  Wouldn't you love to let go of that particular power?  Wouldn't you love to take a break from being so smart?  I know how hard being so smart makes everything, and I promise you'll love how easy letting go and getting dummied down for me can be.
I promise, it's only temporary.
And that's just part of the full hour and change you can spend surrendering to me.
I'd hate to think any of you would miss something so wonderful that you haven't been able to get anywhere else.
-Love Miss Kay