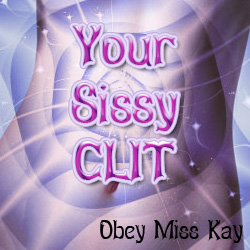 Click the Button, Buy and Listen to my Hypno MP3 Your Sissy Clit, the first in my series of Sissification and Gender Reprogramming MP3s.  The best aspect of owning my new MP3 is you can listen to my recording anytime, anywhere especially if you download it to your MP3 player, laptop or mobile device.  You aren't limited to listening to my hypnotic recording on Niteflirt where you have to pay to listen to a recording each time and where you are limited to listening via phone.  You will own this hypno audio recording and you can listen to my hypnotic voice and suggestions over and over.  The subliminal messages will gain more power and control over your male mind and start turning you into a girl not just on the outside, but from the inside out.   You know you have the urges in you and my MP3 will compel you to give in to your urges and finally make the transformation you've only dreamed of!
Your Sissy Clit
You will  discover and explore your sissy alter ego,you will learn to let go and get in touch with your girl self that longs to be set free of your man shell. This mp3  a journey of self realization of who and what you are. Enjoy the journey with Miss Kay as your guide.
Layered with soft music.
Stereo Recording
37:06 minutes
I know you will crave my power and control even more after you listen to my MP3, so I am here for you on Niteflirt for live hypno call sessions.   Live hypnosis phone sex calls will allow me to personalize your  transformation or take you to a new level if you've already listened to my MP3.  My hypnosis skills are not just limited to sissification or gender reprogramming, I engage in a wide spectrum of phone hypnosis on Niteflirt.  I also am one of the first Hypno Dommes to specialize in breast hypnosis, where you stare at photos of my breasts and I mesmerize you with them.  Please plan on spending at least 20 – 30 minutes with me for an intense multi-layered hypnosis session.