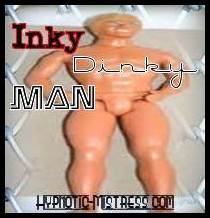 "Inky Dinky Man" is one of my newest erotic hypnosis files and this file will take you deeper into small penis humiliation than you ever thought was possible. The intense tiny penis humiliation will linger long after you listen to the file since there is an insidious trigger cue that will be planted in your helpless pea brain. Unlike an audio recording that you can listen to only when you dial into Niteflirt, this is an erotic hypnosis mp3 you will own and can listen to on your mp3 player, smart phone, computer or tablet device. You will own it forever and can play it anytime, even on loop. This is a privilege you will gladly click and pay for now.
Not only that, but also you will listen to "Inky Dinky Man" over and over because you will become addicted to my cruel Femdom humiliation of inky dinky men like you. Just reading this blog makes you desire to hear my sexy voice humiliating the lack of a man you are. It is as simple as 1, 2, 3. 1 – clicking the button, 2 – paying for this mp3 ear porn and 3 – downloading the file. Then listen!
If you have an inky dinky and want a dominant woman like me, Miss Kay, to make you feel ashamed for your dicklessness, this erotic hypno file will quench your thirst for pure small dick humiliation. Ideally, you will become addicted to my voice and superiority as a HypnoDomme. Be sure to purchase and collect other hypnosis files I have produced in my professional home recording studio!