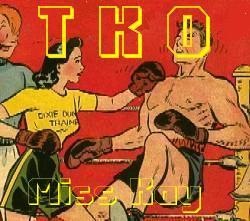 If you need a quick Femdom fix, I just produced a non hypno mp3 on the female domination boxing fetish titled TKO. If any Call Miss Kay blog followers or Miss Kay audio aficionados remember, a few months ago, I produced a popular hypnosis recording on the agonophilia boxing fetish. After I released that recording, I had multiple requests to produce an agonophilia non-hypnosis mp3 and this is it!
Reinforce your desire to submit to me. Listening to an mp3 in a conscious state can act as the psychological reinforcement you subliminally need. You can also listen to this intense recording if you need to be put in your place as a literal "loser". Feel your power draining while your arousal amplifies. Further, this recording includes elements of humiliation if you enjoy verbal humiliation. When I conceive my audio recordings, I love to weave kinky themes together in a provocative way. I'm a powerful Femdom boxer. In real life, boxing is my hobby and outlet for my physical domination needs. So, you can see, this is not just a fantasy to me, but a consummate passion.
I produce both hypnosis and non-hypnosis mp3 recordings for those who enjoy erotic hypnosis and those who enjoy ear porn. When you buy this TKO recording, you will own it forever and you can listen to it on any of your devices that play mp3's. If you want a custom mp3 recorded for you incorporating your fetish or fantasy, be in touch with me via email for my rates: CallMissKay@yahoo.com … or call me on Niteflirt to discuss the details.